Nainital lake, a prominent tourist destination in the hill station of Nainital is spread over a perimeter of 2 miles and is situated at an altitude of 6,358 feet. The lake is further divided into two parts- Mallital( Northern half) and Tallital(Southern half). As of the 2011 survey, the total population of Nainital is about 41,000 with the lake being the principal source of water for many households.
When Nainital was first discovered by P. Barron in 1839 he was enchanted by its scenic beauty and soon settled there. Shortly it became an important administrative point and summer capital of the colonial government. The British developed this region very strategically building drains, locally known as 'Nalas' which brought water in and out the lake. The major catchment area for the water body is 'Sukhatal', another lake located some kilometers away.
While interviewing Mrs Latika, a citizen of Nainital and a women scientist working with DST(Department of science and technology) along with the foundation 'Jagrati' she disclosed to me the possible reasons for the degradation of the lake over the years
Since the early 1900's , Nainital has been attracting many tourists because of its climate and scenic beauty. As tourism has increased, construction has also escalated immensely causing blockage in the Nalas, contamination of potable lake water and overall degradation of the ecosystem. Many houses direct their sewage water into the canals which eventually drain into the lake. Idols of god are immersed into the water after the annual festival thus discharging large amounts of mercury . Water is being pumped out from Sukhatal lake(the catchment area) to ease construction there. These issues have consequently led to harsh effects on the biodiversity and the quality of water in the lake.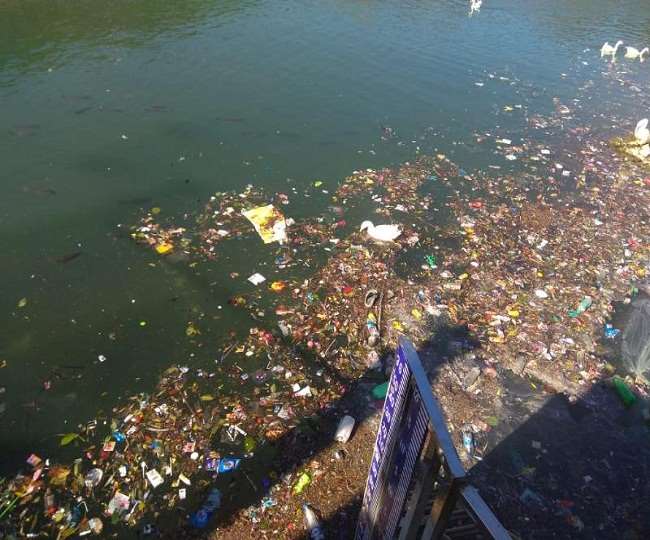 To tackle these challenges, some measures have been taken. Recently a machine was supplied by the UNDP(United Nations Development Program) which can automatically check the BOD and COD of the water and experts have verified that it can help monitor the condition of the lake. Huge funds have also been coming in to supplement the revival process.
Even though these steps have been taken, locals have to be educated and awareness has to be spread among tourists to keep the lake alive. Only through spreading awareness will the lake be 100% effluent free
– Written by Vedha P